"Remember! Souviens-toi! Esto Memor! 
(My metal throat is polyglot.)
Minutes, blithesome mortal, are bits of ore
That you must not release without extracting the gold!"
Charles Baudelaire, "The Clock"
This durational performance piece, coupled with a photographic installation, stems from the ever illusiveness of time and the preoccupation of time as a recurring exploration for poets, philosophers and artists throughout history.
At sunrise the artist occupied the gallery for a full 24-hour period in an uninterrupted performance piece lasting until first light on the following day. During this time the man interacted with a single vintage clock amidst images of reproductions of clock faces lining the gallery walls. The images represented time-pieces of varying shapes, origins and sizes, from early ancient clocks to contemporary. Each clock was time-fixed at a different hour and positioned in chronological order based on a 24-hour cycle, referencing the prevalence of time throughout history, completely enveloping visitors in moments of time; a real time performance and objects of suspended time, navigating somewhere in between. It was an exercise in Time-as-appropriation and sensory experience.
Guest Curator: Kimberly Marrero
Lighting Design: Dina Paola Rodriguez
Sound Composition: Howie Kenty
Presented at Ground Floor Gallery, January 9th, 2016.
Artwork Still Available
Some of the prints from this project are still available for purchase. If you are interested, please contact here to request more information on pricing and what is still available.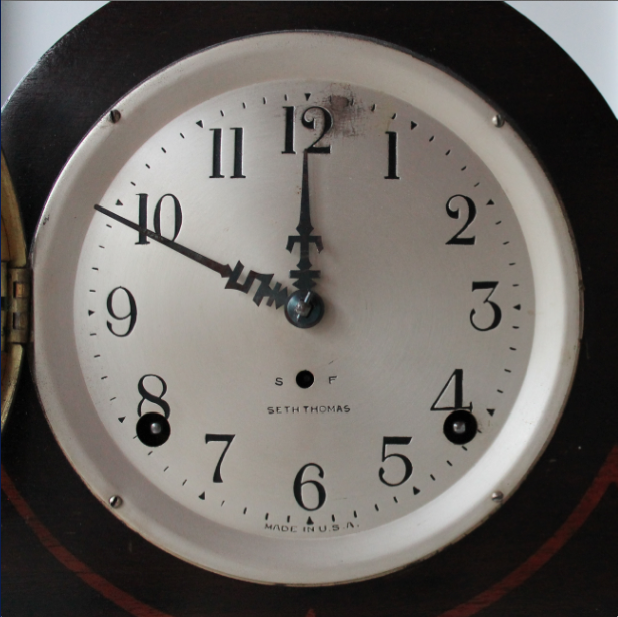 "I have arrived at Schopenhauer's dictum: '…No man has ever lived in the past, and none will live in the future; the present alone is the form of all life, as is its sure possession which can never be taken from it…' "
Jorge Luis Borges, "A New Refutation of Time"